Choosing a Builder – Thimble Homes!
By Rob Pomazi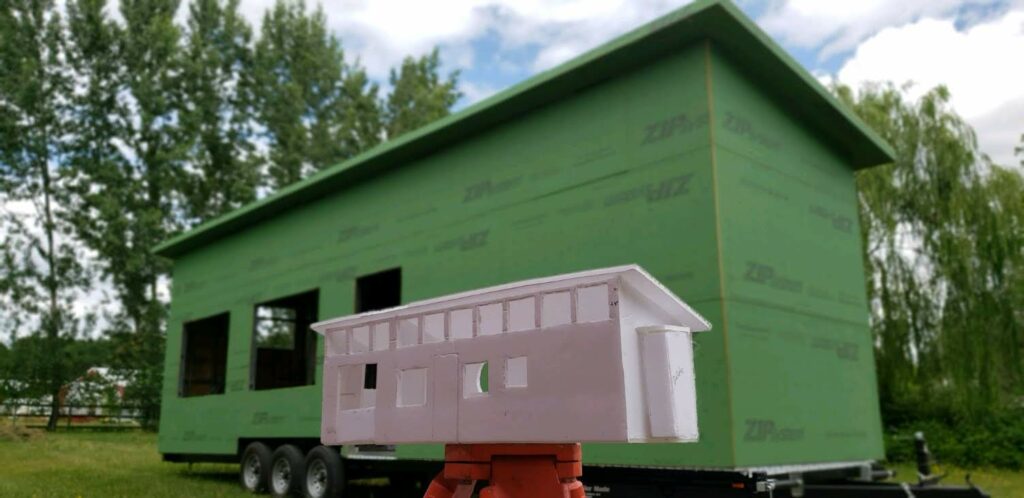 Hi, my name is Rob Pomazi. When my wife Leesa and I decided we wanted to go tiny we needed to find a builder. So, we attended a few tiny house shows in Portland and saw many great houses. After talking with several builders, one stood out from all the rest, Thimble Homes. They gave us personal attention and believed in our vision for our house.
We decided to use Thimble Homes as our builder.
In March of 2019, we hired Thimble Homes to build the starter for our tiny house. They provided the trailer, metal frame, and metal roof. Leesa will do the rest. Leesa has been planning this for years. Her main goal is to have our tiny house be as accessible as possible for me to navigate.
Changes to our plan
When we took Leesa's plans and foam board model to Thimble Homes, Luke had some suggestions for changes.
Windows
We had originally planned on having a circular window in the living area. Luke quickly explained due to cost and how much of a pain in the ass it would be to build, a rectangular window would be a better idea.
Also, he changed the original ten 2′ x 2′ windows to five 2′ x 6′ windows. This allowed for egress windows from the loft and cheaper building costs.
Roof
Finally, Luke recommended a more shallow roof pitch providing more interior space as well as a more manageable roof.
We truly appreciated all of Luke's insights and agreed with his changes.
The metal frame was designed to support a ceiling lift.
Thimble was able to have their trailer manufacturer, Trailer Made, incorporate steel support framing engineered to hold the weight of a ceiling lift.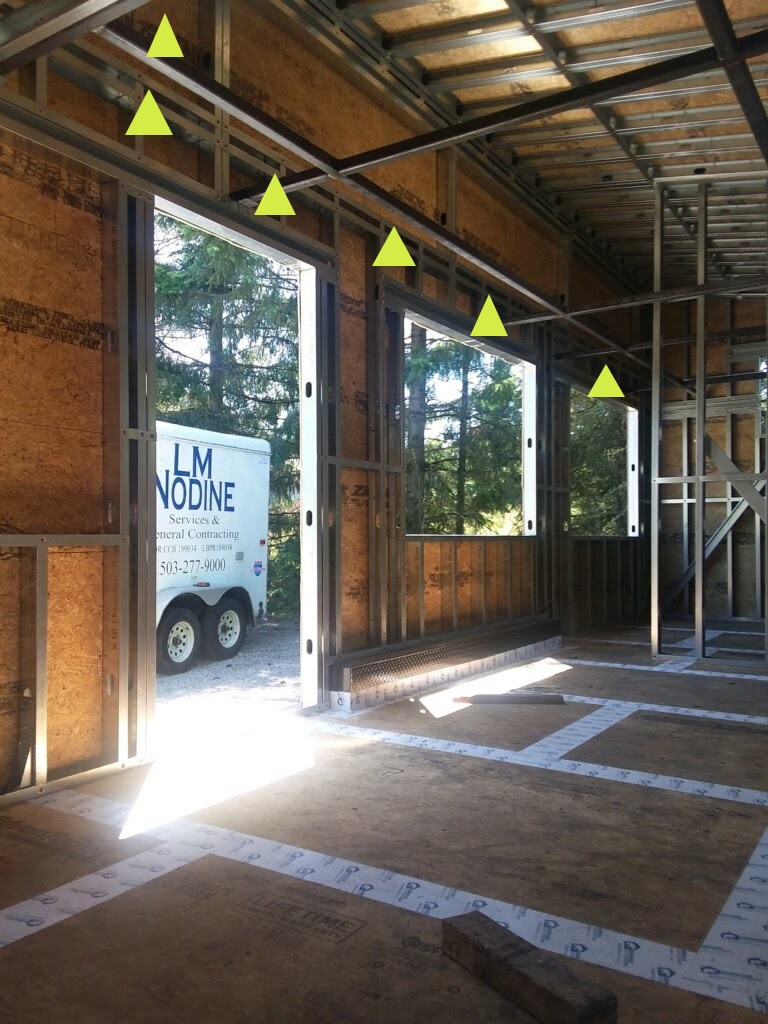 The ceiling lift will consist of a harness suspended from a wireless controlled motor attached to a track rail system spanning from the bedroom to outside the bathroom.
Trailer Made, in Colorado, built the trailer and the metal frame for our tiny house. Around the 12th of June 2019, our tiny house shell arrived at Thimble Homes in Newberg.
Thimble Homes installed the metal roof on our tiny house.
Support
As well as helping us with design issues, they have been very supportive. This post from Thimble Homes facebook page is just one example:
Rob & Leesa Pomazi came to us with a dream and a Styrofoam model…

Ok, to give a little more credit, where it is very clearly due, they didn't just bring the model (but it sure was our favorite part) they also showed up with floor plans in hand. Rob & Leesa were clearly ready for their new home.

This custom tiny home was designed with the view in mind, large windows span the front top of the house, to gaze at Mt. Hood. 36' long and 8' 4" wide, with a single loft and first floor bedroom.

This home will be delivered to Rob & Leesa, walls up and roof on. They will be taking on completing the interior and exterior of the home themselves.

Thimble Homes will be here to help in anyway we can until they finish. Sure can't wait to see how this beauty ends up!

Many thanks to Trailer Made Custom Trailers, LLC !!

---
Robyn and Luke have been amazing by answering any questions we have about building our Tiny House on Wheels.
As a result, we know that Robyn and Luke will be there whenever we need advice or information. Because of all this, we are so glad we chose Thimble Homes!